The art deco theatre in Manildra, near Orange, is a rare purpose-built theatre that has been operated by the same family since it was built in 1936.  Movie theatre expert, Professor Ross Thorne, has described it as "a living icon of the importance of film and cinema in the course and pattern of NSW's cultural history".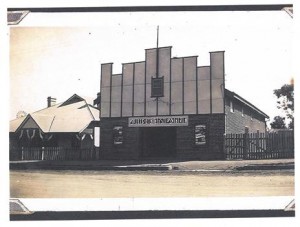 Allan Tom was one of the pioneers of the travelling picture show.  From the early 1920s to the 1940s he toured the goldfields and western NSW, screening silent movies for remote communities.  In 1936 he built the Amusu in Derowie Street, Manildra, next to the garage he operated with his brother.

For 60 years through drought, flood, depression, the advent of clubs, television and video, Mr Tom screened films for the small town.  He showed his last film in May 1995, just a week before his death at age 93.  The historic cinema is still operated by the family.
There are only a handful of early theatres remaining in NSW and the Amusu is an extremely rare example of one that has operated continuously.  Few, if any cinemas, possess the memorabilia and movable heritage that is found at the Amusu.  Heritage Advisor for the Cabonne area, Sue Jackson, describes the collection as a rare treasure.
"After WWI Allan Tom bought his first truck and bought a silent projector.  When talkies came in, he adapted the arc-lamp projector for sound.  That projector is still there.  Everything he bought or adapted is still there.  It is an amazing record of the development of cinematography though the 20th century."
With its intact purpose-built building, history of continuous use and movable heritage collection, the Amusu is unique in NSW.  Its significance to the State was recognised last October when it was listed on the State Heritage Register of NSW.
Mr Graeme Fleming, General Manager, Cabonne Council said, "The recognition of this historic theatre is very important, particularly for the local Manildra community.  It has been continuously operating as a movie theatre since the 1930s and now we are attracting people from outside the area to come to Manildra to visit the theatre.  The theatre is very evocative and visitors can appreciate the architecture and experience what it was like to go to the movies in a bygone era."
With funding through the Heritage Assistance Program and with assistance from Cabonne Council, a Conservation Management Plan for the building and its collection of movable heritage is currently underway.
Bibliography:
Heritage Branch, Office of Environment and Heritage [n.d.], The Amusu Theatre, viewed 3 May 2012.
http://www.heritage.nsw.gov.au/heritagensw/mar00/8_art1.htm