Earliest Manildra cricket teams that can be traced go back to 1895. There were teams at Gregra, Garra, Meranburn, Red Hill and Manildra. Early names known are Jack McArdell and Ted Allen.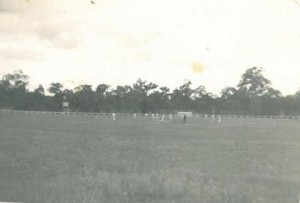 Cricket was played up until the start of World War I. It started up again about 1920, with the Manildra team captained by Viv Bloomfield and known team members were Stan Wenburn, Athol Bennett and Fred Stanford.
Manildra had a very strong team from 1930 to 1938. This was a time when they competed against teams from the larger towns such as Parkes and Orange and often proved more than a match for them. At this time there were also a number of district teams including Gumble, Red Hill, Garra, reedy Creek, Toogong, Cranbury, Cudal, Molong and Cumnock. Cricket lapsed during 1938-1945 because of the War but started again in 1946 with a lot of pre-war players still active.
Bibliography:
Stapleton, Hazel 1982, Manildra on Mandagery: town and district, Hazel Stapleton, Cudal N.S.W.